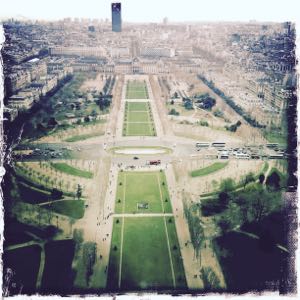 BUBBLE SKY BAR AT MONTPARNASSE
33 Avenue du Maine, 75015
+33 1 45 38 52 56
This is, hands down, the ugliest building in all of Paris, but it also has the best views of ANYWHERE there (it actually looks down on the Eiffel Tower). There's a restaurant, Ciel de Paris on the 56th floor, which is fine, but the real deal is the 58th floor observation deck and the OUTDOOR champagne bar with 360-degree views of the city.

FONDATION LOUIS VUITTON
8 Avenue du Mahatma Gandhi
Bois de Boulogne, 75116
+33 1 40 69 96 00
There are obviously a million museums to visit in Paris and all of them should be seen, but there are, for me, just a few that are worth an honest mention. The Fondation Louis Vuitton is high at the top of that list, and not for its collection of art, which is small and somewhat nondescript, but for the building itself. Designed by Frank Ghery and created in 2006 by LVMH to be a place "for meaningful exchanges between artists and visitors from Paris, from France, and from the entire world," it sits on an incredible location next to the Jardin d'Acclimatation inside the Bois de Boulogne. Don't miss it.

MUSEE RODIN
79 rue de Varenne, 75007
+33 1 44 18 61 10
I have never been to Paris without stopping here, if even for a minute. The museum itself is housed in a beautiful mansion that was recently completely renovated, but the true beauty is in the gardens where some of Rodin's most celebrated sculptures rest among lush, green gardens. There's also a café within the gardens, making it a perfect stop for a drink or snack as well.

PARIS MUSEUM PASS
This is one of the best shortcuts I have ever found: order these passes online before you go (give yourself at least a couple of weeks to get them in the mail), and skip the lines at a slew of museums and hotspots, including The Louvre, The Musée d'Orsay, The Musée Rodin and a whole bunch more. They are sold in either 2, 4 or 6-day passes and are really worth the time you'll save.

LA TOUR EIFFEL
Champ de Mars, 5 Avenue Anatole France, 75007
Obviously. But in the past few years, they have started to sell timed tickets online, making the endless wait to get the top a little less endless. Buy online before you go (up to the day before), and make sure to bring your printed ticket with you.
SCAVENGER HUNTS
THATLOU
+33 6 86 13 32 12
We did this with 2 other families, and it was really one of the best experiences we have ever had. It's a treasure hunt where teams must find certain works of art throughout the museums and photograph themselves in front of it. It is riotously hilarious and educational and team building all at the same time. We did ours at The Louvre, but the company has since added options for The Musée d'Orsay (THATd'or) and through the streets of The Latin Quarter (THATrue).
GET ON A BIKE
Bike About Tours
+33 6 18 80 84 92
Fun, small group, family-friendly rides through Paris, Versailles or Champagne.

LA GRANDE EPICERIE PARIS
38 Rue de Sèvres75007 Paris
+33 1 44 39 81 00
Best. Market. Ever. Imagine if Eataly, Whole Foods, Zabar's and Fairway got together, had a baby and moved to Paris. It's literally too much to handle – you have never seen so much beautiful product in your life.
LUNCH OR DINNER CRUISE ON THE SEINE
Bateaux Parisiens
It's possibly the most tourist-y thing you can do in Paris, but the view of the city from the Seine, especially at night, is pretty magical. And the food is surprisingly pretty decent, too.

JARDIN D'ACCLIMATATION
Bois de Boulogne, 75016 Paris, France
+33 1 40 67 90 82
Great park with everything from amusement parks to food trucks and art exhibits. This is also where the Fondation Louis Vuitton is located.

L'AQUARIUM DE PARIS
5 Avenue Albert de Mun75016 Paris, France
+33 1 40 69 23 23
There are so many incredible things to see and do in Paris that is seems a little strange to go to an aquarium, but it's actually a pretty cool one and a good place to escape the heat of summer or the cold of winter.