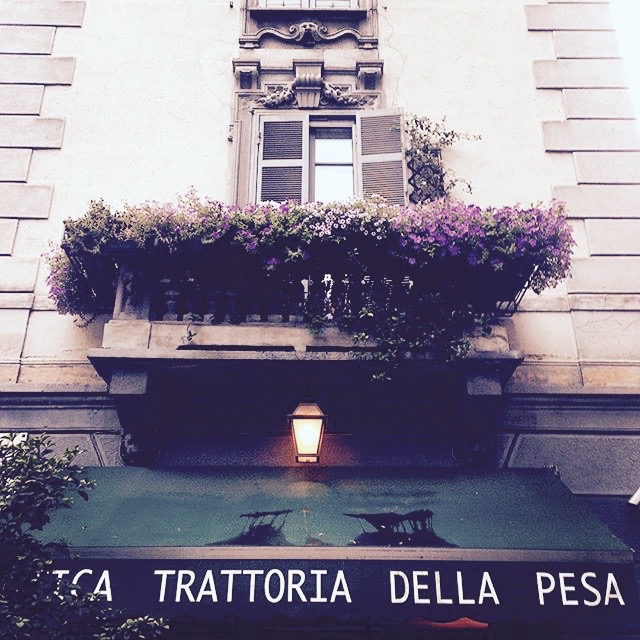 I have to be honest - Milan was not my favorite city food-wise in italy. The typical Milanese dishes — Risotto Milanese and Veal Milanese — are both heavier dishes than I would normally be drawn to, and to me, milan seems to lack an true identity. Maybe because fashion has made its home there, or maybe because at it's heart it's an industrial city, but whatever the case may be, for me what was missing was the passion for food that you find in so many places throughout that country. Our trip was short, and knowing a bit about what to expect, I tried hard to find some places that would be exceptions to the rule, that would be a bit out of the box and, hopefully, prove my theory wrong. I have to say we were pretty successful, and here are my top recs for Milan.
ALLA COLLINA PISTOIESE
Via Amadei, 1
+39 2 86 45 10 85
I feel weird saying this, but I actually think that Alla Collina Pistoiese might serve the best Spaghetti alla Vongole Veraci I have ever had. And that includes the Amalfi Coast. I know, not what you would expect in Milan, and that's just one of the reasons I loved this place. It's old school - has been off the Piazza Sant'Allesandro since 1938, and the waiters are as traditional as the decor. The cuisine is more Tuscan than Milanese, and the food is really, really solid - plus, there wasn't another tourist in sight. We had a party of 13 for dinner here, so we were able to taste most of the menu but if you're dining with a smaller crowd, I would say don't miss the vongole, the grilled sole, the grilled veal chop and the fried mozzarella and zucchini. All winners. Oh! And dessert. Don't walk away without it.
ANTICA TRATTORIA DELLA PESA
Viale Pasubio, 10
+39 2 65 55 74 1
This one came recommended to me from four different sources, so I made a lunch reservation with some pretty high expectations. The location is great, near the Corso Como, and the restaurant is really charming. It's another oldie (this one dates back to 1880) and the feel of it is sort of refined Italian Grandmother's house meets Milan style - think white tablecloths with beautiful flower arrangements, dark wood and lots of windows covered with sheer white shades that filter the light perfectly. The food is also refined Italian Grandmother meets Milan chic: traditional enough to take you back in time, but refined enough to be interesting. The dish to have here is the Risotto al Salto, a crispy, buttery pancake made from yesterday's Risotto Milanese (the equally buttery, saffron risotto that is famous in this region) that will literally lose all of your arteries but you will die happier than you have ever been. If death by butter isn't your thing (I feel sad for you), then go for the perfectly simple rigatoni pomodoro e basilico or the fusilli alle erbe for pastas, and the veal milanese or grilled veal chop for your secondi. Lunch is the best bet here - the light in the room is spectacular and if you need to stretch your legs, you can shop around the area afterwards.
DA CECCO
Via Solferino, 34
+39 2 65 52 141
After a morning spent at the Expo Milano 2015, we were ready to eat. Although the theme of this years world's fair was Feeding the World, we found that it was simply too crowded to actually feed ourselves. Luckily the Metro has phone service and the group was unanimous in their desire for pizza, so I quickly searched and found Da Cecco. We had no clue what to expect, but we were tired and hungry and at that point all we really wanted was to sit down and have a glass of wine. What we found, though, was so much more. Turns out Da Cecco has been making wood fired pizzas forever and the restaurant was packed when we arrived. It was a gorgeous day so we sat on the tiny back patio and proceeded to have one of the best meals ever. The pizzas were spectacular with literally dozens of combinations to choose from, and because it happened to be porcini season, we also had those simply grilled. But the kicker? They had PUNTARELLE! If you don't know what puntarelle is, or haven't read my entry on Palatium in Rome, now is the time for you to discover this incredible green. Sometimes called Chicoria di Catalogna, puntarelle is picked when young and tender and is usually served in a salad with anchovies, garlic and olive oil. It's ridiculously good and isn't so easy to find, especially outside of Rome. Needless to say, I was in heaven. And the bonus here is that the jugs of house red and white were also perfect!
DA GIACOMO
Via Pasquale Sottocorno, 6
+39 2 76 02 33 13
So we didn't eat here. BUT, my eye doctor (Peter Odell - if you're looking for the best in NYC, he's your guy, btw), who might be a bigger foodie than anyone i know, told me about Da Giacomo the week AFTER we got back from Milan. As far he's concerned, this is the best meal he's had in Milan. Again, it's old school, and Giacomo has been cooking his refined Tuscan food in Milan since 1958, so I would guess Dr Odell's recommendation is spot on. We will definitely try it the next time we're in the area.

ERBA BRUSCA
Alzaia Naviglio Pavese, 286
+39 2 87 38 07 11
I am not sure how I heard about this place, and my family was terrified when we took the Metro all the way to the end and the walked for 25 minutes to what I can only describe as the Milanese hood, but I promise you, the trek is worth it. Erba Brusca is all about being different. - but in a very good way. From the location to the vegetable garden that surrounds the property and provides all of the herbs and greens for the kitchen, to the soft lighting, outdoor terrace seating and super-inventive menu, it is a true breath of fresh air. The menu is small - 4 antipasti, 4 pastas and 4 entrees, and some of the combinations sound somewhat insane, but I promise you, this was the best meal we had in Milan.

TRATTORIA MILANESE
Via Santa Maria, 11
+39 28 66 45 19 91
‪We landed in Milan and pretty much headed straight to lunch. I chose Trattoria Milanese for the somewhat obvious choice of the name, and the fact that it has been open since 1933, and I have to say we were not disappointed. The dining room was bustling and I didn't hear a single word of English, which is always a good thing. We sat down, ordered the house white, which was perfect and had a look at the giant menu. Here's what we ate (please don't judge - there were 8 of us): prosciutto and salami, troife al pesto, risotto milanese o al salto (their specialty), tortellini with pumpkin and sage, troife with porcini, meatballs in tomato sauce with mashed potatoes, veal meatballs, veal milanese, grilled steak and eggs, veal scallopine with porcini, roasted artichokes with potato and roasted radicchio. Sounds like a lot but honestly, I could do the whole thing all over again right this second.

UN POSTO A MILANO
Via Privata Cuccagna, 2
+39 25 45 77 85
Another spot off the beaten path, on the other side of town from Erba Brusca, Un Posto a Milano is something of a commune meets hostel with a fantastic Chef at the helm. Sound confusing? It is. An interior dining room, a few hotel rooms, a somewhat dilapidated-looking garden and a take out bakery and coffee counter (I think that's what it was) and a cute outdoor seating area, all make for a restaurant that feels as if you've just stepped onto a movie set. It's all about the pizzas and foccaccias here, which they make with Polish leavening (manitoba flour, honey, orange or apple juice), potatoes (for the focaccia), brewer's yeast and extra virgin olive oil, and they are all gluten and lactose free.