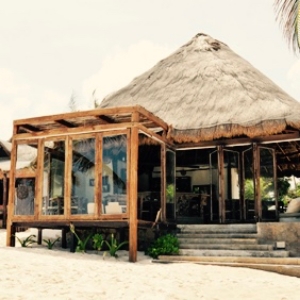 The hotels in Tulum are all variations on a theme. Some are slightly more upscale than others, but none are super luxury. Prepare for eco-chic lodging and mimimalist decor.
AHAU TULUM
Km 7, Carretera Tulum-Boca Paila
+52 98 48 02 53 87
Admittedly I've never stayed here, but the people I know who have, love it. The rooms are tricked out beach cabanas and the restaurant sits on the beach. There's also a professional Kite surf & Paddle School on the property, which are two of Tulum's most beloved pastimes.
AMANSALA
Km 5.5, Carretera Tulum-Boca Paila
Home of the famous Amansala Bikini Boot Camp, this was the first place we stayed in Tulum years ago. Billing itself as "eco-chic," I would go with more eco, than chic, but it's THE place to stay for a yoga break or for the bikini boot camp retreats, which was what we did. The food, though, is restricted as is the alcohol, so prepare to be a bit of a rebel if a serious detox isn't quite what you came for.
ANA y JOSÉ
Km 7, Carretera Tulum-Boca Paila
+52 99 88 80 56 29
Ana y José straddles both sides of the main beach road – from jungle to beachfront – and feels more like a "resort" than anything else on the strip, complete with pool, spa and restaurant + bar. It's also probably the most kid-friendly with all suite accommodations, so keep that in mind if a family vacay (or someone else's) is not what you had planned.
BE TULUM
Km 10, Carretera Tulum-Boca Paila
+52 98 48 03 22 43
This is where I've stayed for the past four years, and it's my idea of heaven on earth. The rooms (all air condoned, by the way – a REAL luxury in Tulum), spread out along a sandy path that leads to the beach, are all spacious, clean and simple, and each room has either a private pool or a large in-room Jacuzzi. The real deal, though, are the two ocean suites located on the 2nd floor of the buildings closest to the beach, which have rooftop pools overlooking the ocean. Also of note is the incredible beachfront restaurant (see Where to Eat) and the fact that the hotel is adults only.
CASA VIOLETA
Km 8.2, Carretera Tulum-Boca Paila
+52 98 41 71 09 86
Owned by the GORGEOUS Karla Gutierrez, Casa Violeta doesn't look like more than just a few thatched roof huts on the beach, but it's so much more. Bellini bed linens, amazing yoga pavilion and incredible restaurant all make for a super laid back stay. This one is also great for traveling solo.
COQUI COQUI
Km 7.5, Carretera Tulum-Boca Paila
CLOSED
ENCANTADA
650 212 6782
Km 8.7, Carretera Tulum-Boca Paila
It's brand new and I'm not sure I've ever seen it, but reviews are good and pictures are pretty.
MEZZANINE
Km 1.5, Carretera Tulum-Boca Paila
+52 98 41 31 15 96
This hotel is on the northern part of the beach road, so it's a bit more secluded and the beaches tend to be quieter. It's a gorgeous spot with a only 9 rooms, so the service is pretty impeccable.
PAPAYA PLAYA PROJECT
Km 4.5, Carretera Tulum-Boca Paila
+52 98 41 16 37 74
This was opened as a "temporary hospitality experience" in 2011, but has become a permanent fixture on the beach, with 80 cabanas spread across 800 meters of oceanfront property. There's also a great restaurant and bar, the requisite spa and yoga pavilion and on occasion there's even a pop up nightclub. This is, for sure, the most truly eco-chic of the hotels along the strip.
JASHITA
Bahia Punta Soliman s/n, 77780
+52 98 41 68 67 69
This one is located about 20 km north of the main beach strip on the very secluded and very beautiful Solimon Bay, which makes for a great swimming and snorkeling spot. It's pretty isolated, though, and not so easy to access all of the restaurants on the strip, so just be prepared to be really, really quiet at Jashita. If you happen to be in the mood for a romantic getaway, the Aphrodite Honeymoon Suite is over the top.
LAS RAINITAS
Km. 9, Carretera Tulum-Boca Paila
+52 984 871 1090
Las Rainitas is closed for a complete renovation until 2017, so check in and see if they're open because we hear the reno is going to be spectacular.
HOUSES
While we usually love the idea of a house, in Tulum it feels like the hotels are the way to go. Unless, of course, you're traveling with a large group or family, in which case we have heard that these rentals are the best on the strip:
CASA BEHLA
A group of three houses of varying sizes just next to Coqui Coqui.